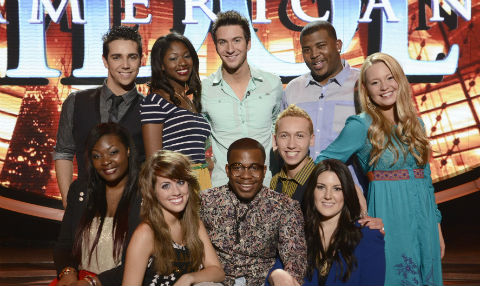 On Thursday night, we learned the American Idol 2013 Top 10 and it played out pretty much as everyone expected. Now that it's official, it's time to take a look at the Top 10 contestants, one by one, and assess who has what it takes to become the next American Idol.
The American Idol 2013 Top 10
Lazaro Arbos: A clear fan favorite, Lazaro will wear on people after a few more of the standards (think "Feeling Good" and "Bridge Over Troubled Water"). He's very talented though and will surely have a career. Placement Prediction: 4th Place.
Janelle Arthur: One of two country girls, this could be the season the top prize goes to a country girl. But will it be Janelle or Kree? I think Kree has a slight edge on Janelle, so while I think she'll continue to get the country vote for a while, she won't go all the way. But it's so early to tell. Placement prediction: 6th Place
Curtis Finch Jr: I'm not exactly a Curtis fan, but I knew he'd make it. He's the next Jacob  Lusk and Joshua Ledet. I'm sure he'll annoy me, but most of you will love him for weeks to come. Placement Prediction: 5th Place.
Candice Glover: People are loving Candice right now and so am I. But will she peak soon or carry it all the way? At any rate, I hope she stays awhile. She's one of the most talented in the group. Placement Prediction: 3rd Place.
Kree Harrison: The better of the two county singers this season, I'm thinking Kree's talent should outshine Janelle's blonde hair and good looks. And I'll be very happy if that happens. But it probably won't. I think next to Candice, she's one of the best in the contest. Placement Prediction: 7th Place.
Amber Holcomb: I was kind of surprised she made it into the Top 10 over that one girl the judges thought was all hot and marketable. I say that one girl because I really don't remember her name (so what does that say?). But hold on, I'll look, just to be more professional. Aubrey! Yes, Aubrey. Placement Prediction: 10th Place.
Paul Jolley: On one hand I'm surprised Paul made it in, but on the other I'm not. Even though he hasn't broken out the guitar yet, he is a good-looking white guy. He's not the most masculine guy, but I guess that doesn't matter to 14-year-old girls. Placement Prediction: 9th Place.
Angela Miller: Everyone loves Angie. Idol loves her. America loves her. She's everyone's answer to the that next female winner. Blah, blah, blah. Congrats, Angela. Prediction Placement: The Winner of American Idol 2013
Burnell Taylor: He's my personal favorite. And I think the most talented of the guys. I could be clouded by the fact that he's one of the few guys to ever really make me want to stop and listen, but I'm putting him kind of high in the contest. Placement Prediction: 2nd Place.
Devin Velez: I was pretty sure Devin would cancel out Nick Boddington and I think I was right. Devin is a great singer, but I'm not so sure he's exciting enough to last long in the contest. I hope he does, but I don't think it will happen. Placement prediction: 8th Place.
OK, and since I love playing with scenarios, I'll do one more placement prediction just for the fun. The above predictions are based ONLY on performances and pimping SO FAR. A lot can change, so I don't expect many of my predictions to come true. So now I'm going to predict them based on how American Idol has played out in the past.
Which scenario do you think will be closer to the truth? And please remember these are just my predictions and they're not even based on who I love or don't love. And to be clear the ones at the top are my actual predictions. The ones right above are just for fun. Feel free to make your own predictions in our comments section below.