A second round of the Top 11 on American Idol 2015 gave us quite a mix up from the previous week when we saw big changes in readers' reactions to the American Idol Hopefuls' Move Night performances. All this could lead to a big surprise at the next elimination.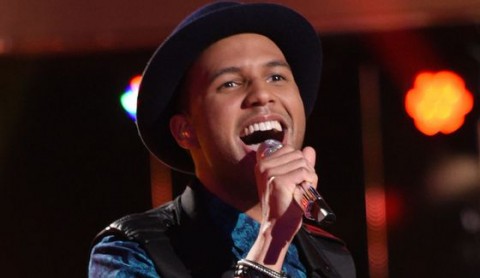 While several contestants held steady to the first Top 11 rankings we saw a big shift for several of the singers from last week's results that accurately placed Qaasim Middleton in the bottom seat.
Rayvon Owen climbed six spots to second behind Clark Beckham who moved up to the top of American Idol 2015 for our readers while Joey Cook held on to her third place seat. Seems America may be warming up to Joey's quirky side as she's toned down just how quirky she'll go on stage.
Qaasim Middleton had the best improvement this week moving up seven spots to fourth place after the Judges Save put him back in the race and his fans rallied to support the endangered singer. Maddie Walker enjoyed her own rise of four places after fears of illness might have kept her from performing last week.
On a downward trend we again find Jax who fell two spots for the second straight week of American Idol. She'll need a big moment in the coming week to stop the support-bleed eroding her former top rank placement.
The biggest change in either direction this week for Season 14 goes to Tyanna Jones who fell nine spots to end up second to last after a troubled performance of "Circle of Life." I had big hopes for Tyanna as one of my favorites in the competition, but it looks like I wasn't the only one let down by how she performed that night.
Adanna Duru is again at the bottom of our American Idol 2015 charts here, but with Tyanna falling so far so fast we may have a shocker result on Wednesday's American Idol. If that happens then the Judges could likely regret using their Save last week.
American Idol Top 11 Round 2 – Reader Rankings:
Clark Beckham (+1)
Rayvon Owen (+6)
Joey Cook (+0)
Qaasim Middleton (+7)
Maddie Walker (+4)
Jax (-2)
Nick Fradiani (-2)
Daniel Seavey (-2)
Quentin Alexander (-2)
Tyanna Jones (-9)
Adanna Duru (-1)
Any surprises for you in our reader results of the American Idol 2015 performance poll this week?