The American Idol 2015 saved was used on Qaasim Middleton last week (and for the record I had him second-to-last last week so I was very close in my rankings), so that means we're again looking at a Top 11 Power Rankings. Remember, however, that there will be two eliminated this week.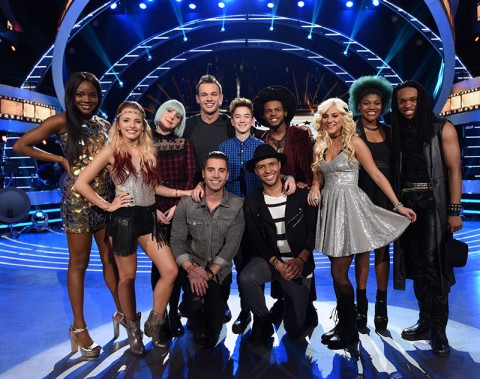 1. Jax. I still think Jax is at the top of any American Idol list right now. After her not being called until the end last week and that performance being a good one, she's in even a better spot now.
2. Clark Beckham. I'm keeping Clark high on this list only because he's the American Idol cliche. He's the handsome white guy who can sing. And he can sing really, really well. So this is one Idol cliche I don't mind getting America's votes.
3. Tyanna Jones. I'm still not sure if America is as into Tyanna as I am, but they should be. I mean she is the most naturally talented person from this season. She proves herself more and more every week and I really hope America sees that.
4. Joey Cook. I'm moving Joey up a spot because she keeps doing all those quirky things America loves and she's also been proving that if you were to strip away the layers of gimmick, she is probably actually a quite talented vocalist.
5. Daniel Seavey. Daniel falls a spot because his vocals are not improving and the judges are actually wearing thin. The cuteness and the obvious fact that he will someday be a very good entertainer just aren't enough to keep him in this competition. I mean his time will come, as a singer, but now probably isn't it.
6. Maddie Walker. I think Maddie is definitely somewhere in the middle, but since she's the only country singer yet, those fans are going to get behind her. And we all know how much those fans can vote.
7. Rayvon Owen. I really hope Rayvon is higher than this. But based on his safe and somewhat boring song choices, I'm afraid I can't list him higher. I think he deserves to be higher, but he's going to have to take some risks and pull out some songs that allow him to have a moment.
8. Qaasim Middleton. After being saved by the judges last week, Qaasim will be able to ride that wave for a few weeks. That's how this always works. The judges save someone and people vote for them for two weeks. In that two weeks, they have a time to make a statement (like Jessica Sanchez) or just wait until the votes run out again, like most others who have earned the save.
9. Adanna Duru. If I'm being totally opinionated here, I'd say I want Adanna to go over the two guys that are most at risk of going this week. But for some reason, she's still holding on. I do hope that she actually swaps places with Nick, but I have a feeling she's good this week and Nick isn't.
10. Nick Fradiani. I think Nick is a great talent. But I don't know if he has much life left in him this season. He's older than the others and he is more suited in a band, it seems. I think he could be in danger this week.
11. Quentin Alexander. Am I going to be wrong about Quentin again this week? I thought he was heading home last week, but we were surprised when it was Qaasim. I think Quentin is just about done riding that Wild Card wave. If he doesn't go this week, he'll go soon.
How do you think the American Idol 2015 Top 11 should be ranked? I'm really missing knowing the bottom two. It's making these rankings a lot harder.