The Top 48 girls for American Idol 2015 have been revealed after last week's final Hollywood Round solo performances. Now those ladies are heading to the House of Blues each hoping to avoid any blues at all with the results.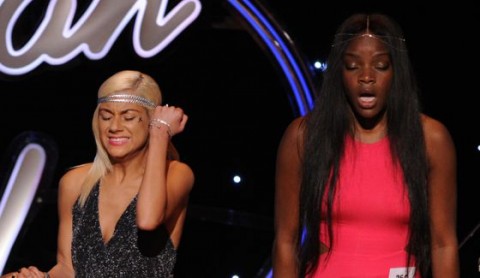 Before American Idol's 14th season even kicked off we shared spoilers revealing which Hopefuls had made the cut to the Top 48. Now we've watched their journey from auditions to Hollywood as they prepare for the Idol Showcase round airing this week.
While we originally expected a Top 40 on American Idol 2015 production had other plans and brought in an extra eight singers to boost things up. Those additions left the spread of girls vs guys at a 26 to 22 advantage for the ladies. Of course by the time we get down to the Top 24 the gender balance will have returned, but for now you can enjoy those bonus girls singing away on stage this week on Idol.
Check out the Top 48's Guys and take a peek at the Top 24 spoilers.
click images to see full-size views
MJs reports Nalani Quintello had to drop out of the competition due to her work but that included a big opportunity so it all worked out for her. Nalani was replaced by Gina Venier in the competition.
Get ready to watch these ladies perform this week on American Idol 2015!