The results of your votes in our American Idol 2015 Top 9 performance poll are in and we're ready to start looking at who could be voted off this week ahead of Top 8 night with Kelly Clarkson.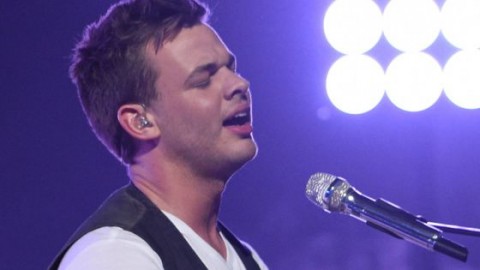 There were some big shifts in the lower half of this week's Idol results, but the charts were again dominated by Clark Beckham and Rayvon Owen. Both singers held on to their respective first and second places for the second week in a row with Clark taking nearly a quarter of all votes placed in our poll.
Climbing back up to the top we've got Jax who spent several weeks sliding down but jumped three spots this week to 3rd. She was followed by Nick Fradiani who similarly improved his position by three spots to get fourth place this week.
The biggest improvement for this week on American Idol 2015 goes to Tyanna Jones who went from 11th last week in our poll to 5th after a big turn around following her Movie Night song flop.
On the other hand, the most dramatic falls belong to Joey Cook and Qaasim Middleton. Joey went from sitting pretty at third to a big tumble and drop to eighth. If two contestants were going home this week I think she'd need to be worried, but there isn't.
Instead I think the worried contestant should be Qaasim Middleton. He got a second chance on American Idol the other week with the Judges Save that gave him a nice bounce in the numbers, but like the "dead cat" I expected this to be a short term recovery and that's what we're seeing. Qaasim was voted out once by the viewers who then rallied to meet the Judges Save. That support eroding with the excitement of the Save worn off and he's back in to the danger zone.
American Idol Top 9 – Reader Rankings:
Clark Beckham (+0)
Rayvon Owen (+0)
Jax (+3)
Nick Fradiani (+3)
Tyanna Jones (+6)
Quentin Alexander (+3)
Daniel Seavey (+1)
Joey Cook (-5)
Qaasim Middleton (-5)
How did your favorite American Idol 2015 contestant fare in the polls this week?