The American Idol 2016 spoilers are out for who won a Golden Ticket to Hollywood Week in the final season of the show! We've seen some amazing talent during the American Idol auditions for season 15, but there were lots more talented contestants who fans haven't had a chance to hear yet. American Idol Hollywood Week will give us a first glimpse at many singers for the first time, and give us a chance to hear some of our auditions favorites again and see how they stack up in the competition.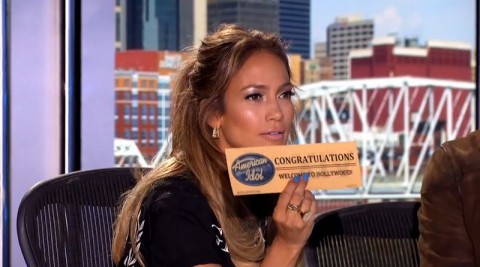 Thanks again to the hard work of The Idol Pad we now have a list of who made it to Hollywood with a Golden Ticket handed out at the auditions this past summer. Don't get too attached to the names below since many of them will be sent home following the grueling solo and group performances they had to deliver in Hollywood.
Just as we've seen in recent seasons, there are some familiar names on the list for Hopefuls who returned from previous eliminations. Will this be their season to make it to the end?
Please note that we are no doubt missing some names as we aren't able to get American Idol spoilers for every single Hollywood Week Golden Ticket winner. If you know of someone who made it to Hollywood Week that we missed here on our list, please let us know! If you can't wait to find out who made it through to the Top 51 contestants or beyond this season so far, check out our American Idol 2016 spoilers page.
American Idol 2016 Hollywood Week Contestants:
Adam Jaymes Wilson
Adam Lasher [AI14 HW]
Amalia "Malie" Delgado
Amber Lynn Stoppel
Ameet "Amy" Kanon
Amelia Hope Eisenhauer
Anatalia Villaranda
Andrew Yendunian Bloom [AI14 HW]
Andrey "Andrew" Tsvetkov
Andrey "Drey" Kazak
Ariel "Ari" Teixeira
Ashley DuBose
Ashley Lusk [AI14 HW]
Avalon Jean Young
Bri Ray
Brianne Angarole (A.K.A. Beta Pop)
Bryson Dunn
Caitlin Lucia
Carlton Pitts
Chandler Rebecca Leighton [AI14 HW]
Cheyenne MaKenna Goss
Christian Eason
Colette Christine Lush
Dalton Rapattoni
De'Quan Joshua Curenton
Elaina Cepada
Elvie Shane Payton
Evan Cole
Gabby Zonneveld [AI14 HW]
Gabriela Sepúlveda Bolivia
Giovanna Salley
Hannah Brooke Sanders
Isaac Cole McNany
Isis Serrano
Jake Dillon Tankersley
James Gray Dawson VIII
JaTarra Presley
Jeneve Rose Mitchell
Jenna Renae Ryckman
Jessica "Jess" Clark
Jessica "Jess" Kellner
Jessica "Jess" Paige Furney [AI8 HW, AI9 GM, & AI11 HW]
Jessica "Jess" Sharpe Baker
Jessica Cabral
Jessica Saad
Jocelyn Faro
Johanna Jones
John Wayne Schulz [AI10 GM]
Jon Klaasen
Jonathon Traigle
Jordan Sasser
Josh Johansson
Juno Rada
Kailey Abel
Kalynne Michelle Schoelen [AI14 GM]
Kayla Mickelsen
Kaylyn Marie Scardefield
Kelsie Nichole Watts
Kendall Phillips
Kerry Courtney
Lain Roy
La'Porsha Renae Jennings/Mays
Laurel Wright [AI13 & AI14 HW]
Lindita "Linda" Halimi
Lindsey Carrier
MacKenzie Bourg
Maddie Lee Hogan
Madilyn Paige Walstad
Manny Torres
Marcio Donaldson
Mary Desmond
Melanie Tierce
Melany Margaret Huber
Monreau Gorsch
Niki Dawson McNally
Olivia Rox
Rachel Karryn
Ryan Black
Sara Sturm
Shelbie Zora James Panter
SheVonne Marie Philidor
Sonika Vaid
Stephany Negrete [AI11 HW]
Tank Jackson
Terrian Bass
Tiffanne LeMay
Trent Harmon
Tristan Bushman
Tristan McIntosh
Victoria "Tori" Lyn Tubbs
Vincent Michael Hines
Will Bundy
Zach Joseph Wcislo
Zane Wommack
Source: The Idol Pad