The first live finals voting round is over and we have the American Idol spoilers for the Top 12 results! Which contestant was given the boot by the voters tonight and will be the first finalist who got voted off American Idol 2014? Keep on reading to find out who went home and who made the Top 12!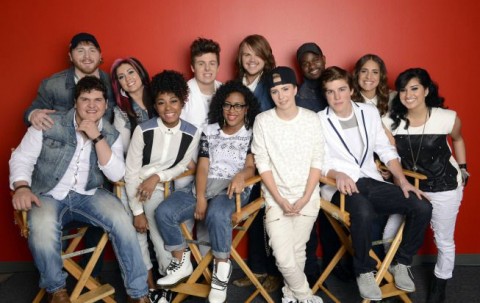 In trying to predict who would be the one who was eliminated on American Idol season 13 this week, we turned to our reader's poll about which contestant was their favorite in the Top 13. With over 2,000 votes, CJ Harris, Dexter Roberts, and Sam Woolf took the top three spots, making it a very strong lead for the guys this season so far.
At the bottom of the pack, we had a muddle of names all mixed together. Ben Briley, Emily Piriz, and Jessica Meuse all garnered only one percent of the poll votes each. Majesty Rose York, MK Nobilette, and Kristen O'Connor only had two percent each. For us, that kind of screamed that we were very likely to end up with a girl being the one who went home on American Idol 2014 this week.
Which finalists did the voters chose to send on to the American Idol 2014 Top 12? Which unlucky number 13 contestant was sent home? Here are the elimination results from this week!
American Idol Top 12 For Season 13:
Ben Briley
CJ Harris
Dexter Roberts
Emily Piriz
Jessica Meuse
Majesty Rose
MK Nobilette
Sam Woolf
Judges' Save: No, the Save is not used.
Eliminated: Kristen O'Connor
click images to see full-size views