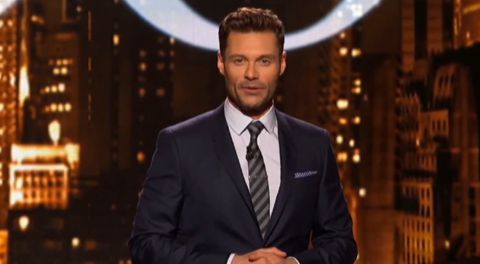 It's time to finally meet the American Idol 2013 Top 10 when we find out who got voted off and sent home from the semifinalists following two tough days of performances by the girls and the guys. Tonight's show has returned to Hollywood where it will play out the rest of this season.
One by one the Top 20 Hopefuls will be brought out from the green room where they can't hear what's going on and their fate announced before the American Idol judges. Hopefully the contestants are ready for some tough news because half of them won't make the cut.
We've made our predictions, but now it's time to find out the official results and whether or not we'll be entertaining Wild Card picks in the mix.
Ryan Seacrest reveals the guys will be announced first and heads back to meet them. It turns out that after each Top 10 American Idol 2013 singer is revealed he or she will also perform for the audience. I guess that's how we're going to fill 90 minutes!
Safe singers joining the American Idol 2013 Top 10 finalists:
Wow! Were my predictions good, or what? How did your guesses turn out?
Now here are the singers cut from the competition tonight. Okay, so it doesn't look like there will be any Wild Card additions to the finalist, but there is a twist. There will be one add-on for the tour. Next week the 6th place guy and girl will compete for your votes for that extra spot.
Eliminated Guys – voted off tonight:
Eliminated Girls – voted off tonight:
What do you think of tonight's Idol results? Did America get it right?