On the live vote results show Wednesday night, we finally learned who the American Idol 2014 Top 13 finalists would be for season 13!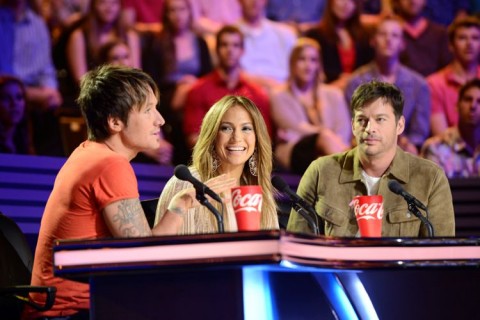 Making predictions for who would get through and who got voted off American Idol by the viewers for the Top 13 was nearly impossible. If we've learned anything over the years, it's that the voters are wildly unpredictable.
Also on Wednesday, we found out which three contestants American Idol judges Harry Connick Jr., Keith Urban, and Jennifer Lopez chose for their Wild Card picks.
In some ways, it was harder to predict who the judges would choose for the Wild Cards than it was figuring out what the voters would do! The judges sometimes pick contestants we would never have chosen, and we expected that would probably happen again. What we did NOT expect is how totally shocked we would be by the judges' Wild Card picks!
Who ended up as an American Idol 2014 Top 13 finalist? Which contestants were left on the cutting room floor and sent home? Read on for the results and watch the performances from the show!
—————————————–
Here we go! Host Ryan Seacrest introduces the Top 20 guys and girls. Then we take a look back at the performances by the guys on the show last night. There is no doubt the boys totally blew away the girls this week. We are betting the Wild Cards from the judges will be two guys and one girl.
Time to get to the results!
And the American Idol 2014 Top 13 finalists chosen by the voters are:
That leaves: Marrialle Sellars, Kristen O'Connor, Bria Anai Johnson, Jena Ascuitto, Briana Oakley, CJ Harris, Emmanuel Zidor, George Lovett, Malcolm Allen, and Spencer Lloyd as possible Wild Card choices.
Now the judges will choose five of the remaining contestants to sing. From those five, they will announce their three Wild Card picks.
The first singer selected to sing is CJ Harris. He sounds great and we think it's going to be a tough choice for the judges tonight if this is just the first song! However, CJ did mess up a bit, as Harry notes, so he is looking very nervous about his chances.
CJ Harris sings "Bring It On Home to Me" by Sam Cooke
Next up is Jena Irene Ascuitto, one of our favorite girls in the competition. She goes daring by doing an original song with the piano (we are pretty sure) and it was a great choice. The song is lovely and her voice is gorgeous on it with some serious big moments. We really hope the judges pick her for a Wild Card!
Jena Ascuitto sings original song
We knew the judges would pick him to sing and we were right. Here comes Spencer Lloyd to the stage! Well, we think this was just a very bad song choice for him to do his original again. The the judges didn't like it the first time and neither did we! This could very well be the mistake that keeps him from a Wild Card spot. He comes across as a one trick pony and tonight, it wasn't a good trick.
Spencer Lloyd sings original song
Now we have Bria Anai Johnson as the next contender for a Wild Card spot. She comes out big and powerful. However, she might be pushing it a little bit too hard. There is a fine line between belting and screaming. Bria kind of wavers back and forth over the line. Harry hears it too and says she was singing for her life, but she was all over the place.
Bria Anai Johnson sings "It's a Man's, Man's Man's World" by James Brown
Our last pick from the judges is… Kristen O'Connor! We are kind of surprised at this choice as we do not feel she has been one of the strongest competitors out of those left. We would have been happy to see Briana instead or one of the guys who have now been eliminated. Kristen does an okay job with her performance, but we are not really feeling it is Top 13 worthy.
Now the judges will announce their picks for the three Wild Cards!
Jena Irene
Kristen O'Connor
CJ Harris
That's a wrap for our show tonight. Join us here again next week for the first round of the finals.